Have you ever thought about automating your self storage facility? With the number of smartphone users rising every year, it may be time to think about fully, or at least partially, automating your self storage facility. There's new technology out on the market that allows tenants to rent, access, and pay for their unit all on their personal smartphone. Currently, about 77% of Americans own a smartphone, so why waste the perfect opportunity to meet your customer where they are? We love automation so much that we put together a list of 4 reasons you should consider automating your facility!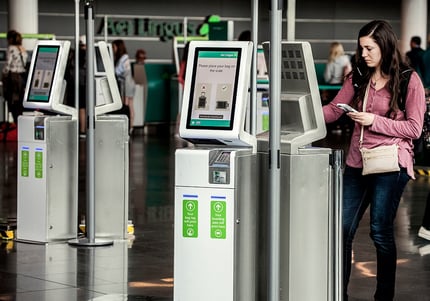 Tenants expect automation
One of the most compelling reasons to automate your facility is the convenience factor for your tenants. Consumers can do almost anything online these days, whether it be grocery shopping, home shopping, or their morning coffee run. People have come to expect this type of automation at the businesses they go to, so why shouldn't they have the same luxury at their self storage unit? Letting tenants rent, open, and move out of their unit from their smartphone gives them the everyday comfort they are used to.
Less overhead costs
Choosing to go with a fully automated storage facility can significantly help you reduce overhead costs. For one, you won't need to have daily office hours because there won't be a manager on-site. This reduces the amount of money you will spend on payroll for employees. Since there is no on-site manager, there doesn't necessarily need to be a large office or bathroom for employees either. This leaves you with more rentable square footage, which can be used to add more storage units and increase your revenue!
Work from anywhere
A major upside to having a completely automated facility is that you don't have to be on site. Gone are the days that you can't have a much needed vacation and keep your store open at the same time. Automating the self storage facility eliminates the need for human interaction; all your tenants need is a smartphone and Bluetooth connection to access their unit. Because most automated facilities use cloud-based applications, there's no need to come into the office to manually lock someone out of their unit if they are past due. Now, you can have your property management software integrate with your electronic locks and automatically revoke access to the unit, gate, and any other access point until the bill is paid.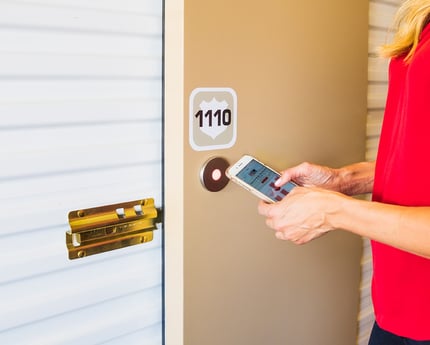 Potential for higher security
Unmanned facilities are traditionally thought to have more break-ins than a conventional self storage facility. Now, we are in "…the new age of 'Smart Entry Systems'," according to Scott Zucker, Esq. Unit doors are being locked from the inside using electronic locks, making them virtually impossible to break in to. While tailgating to get into a facility could still occur, the use of electronic locks ensures that a potential thief isn't able to gain access to the units. Tenants are able to access gates, man-doors, and elevators using their Bluetooth enabled device. With a Smart Entry System, you can ensure your facility is the safest one in town.
One of the biggest questions when talking about facility automation is how the yellow lock will come off when someone new rents a vacant unit. With new technology innovations in the industry, it is now easier than ever to handle this. The SecurGuard® Smart Entry System by Janus International utilizes an electronic lock that sits on the inside of the door. When someone rents a unit on the facility's website, they receive a text message to download their app and have a digital key waiting for them on their smartphone. It's no longer necessary to walk them to their unit and physically remove the yellow lock!
To learn more about the newest technology in self storage security, check out the all-new SecurGuard® Smart Entry System data sheet: