PHOENIX – Phoenix police officers discovered more than 1,300 used and detached catalytic converters inside a storage unit after a months-long investigation, authorities said Thursday.
In a tweet, officers said they found the used and detached catalytic converters while serving a search warrant.
"This concludes a months long investigation into a suspect accused of buying and selling them," read a portion of the tweet made by police.
The converters were reportedly found at a storage unit along E. Washington Street.
Suspect identified by police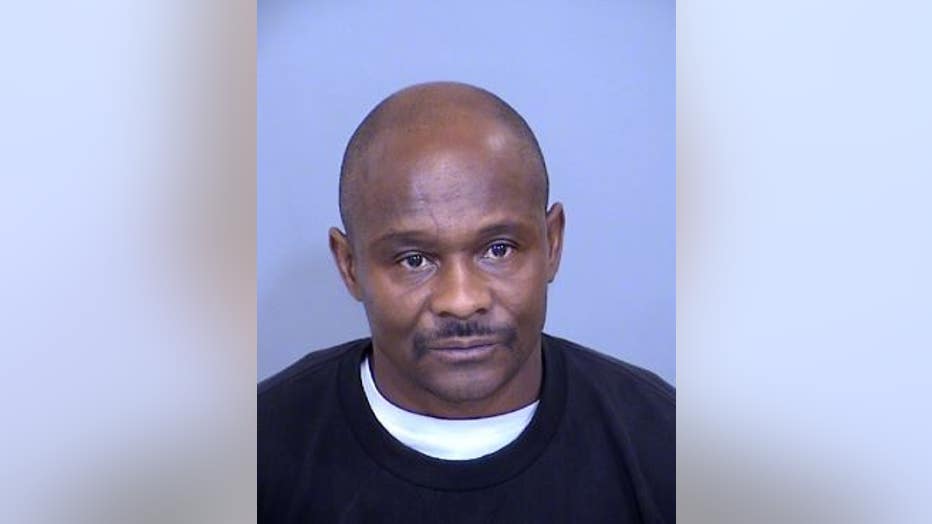 Shelton Ford
On May 27, authorities have identified the suspect in the case as 48-year-old Shelton Ford.
Ford has a long criminal history that dates back to 1999. According to court records, police say Ford drove drunk at a high rate of speed multiple times on a suspended license from 2008 to 2009. He plead guilty to Aggravated DUI, and served about ten years in prison.
Detective Adam Popelier said buying and selling catalytic converters was Ford's main hustle.
"Awe. It was just definite awe," said Popelier, recounting his reaction after serving the search warrant.
According to Popelier, more catalytic converters were recovered in Ford's truck. In all, Popelier said he had just finished impounding the 1,302 converters into evidence.
"I would say at least half had the typical markings of being stolen: the cut ends, the damaged pipes. Others looked like they had been unbolted, so they could have come from other places," said Popelier.
Ford faces dozens of counts of possessing used catalytic converters without authorization.
Phoenix seeing spike in catalytic converter thefts
News of the catalytic converter's recovery come as Phoenix Police officials say they are seeing a nearly 6,500% spike in reported catalytic converter theft cases.
In 2020, Phoenix Police took 715 cases of reported catalytic converter thefts, up from 72 in 2019. In 2021, there was a boom of over 4,700 cases, and through February 2022, Phoenix Police have taken 690 reports, with some cases possibly including multiple stolen converters.
Other cities in the Phoenix area are also seeing a spike in reported catalytic converter thefts. In Mesa, police saw a climb of 814% in stolen converter cases in 2021 with 631 reports. Chandler Police reported a little more than 400 cases, compared to only 22 in 2020, and already 117 cases this year through February.
Popelier said there is a high demand in platinum, palladium and rhodium. These are the precious metals that are hidden inside catalytic converters.
"It was just very surprising that [Ford] himself didn't sell them to get the money for them. I don't know why he was storing them," said Popelier.
Leland Gebhardt is one of the thousands of people across the state who had his catalytic converter ripped out of his car.
"It's shocking," said Gebhardt. "Just to get an idea of the vast quantity of victims there are, and each one of those they're pulling, out that's like $3,000 to $5,000 damage."
Gebhardt said the theft of his car's catalytic converter set him back about $1,500, and insurance would not pay for all repairs. As a result of not being able to drive his truck for four weeks, he also lost business.
"It took two weeks, 'cause this was during COVID, for a claim adjuster to come out and OK the repairs and found out whoever had done the hack job on my converter," he said. "They cut the muffler too, by accident."
Gebhardt did say he is grateful to police for cracking down on the thieves.
"It means they are able to find the people doing it. It's not a complete loss. It gives me hope these people can be stopped. It's too late for me, but it can be stopped. That's exciting," said Gerhardt.
New law could help crack down on theft
A newly-revised state law could make it harder for thieves to sell catalytic converters.
House Bill 2652, which has been signed by Gov. Doug Ducey, makes it illegal to buy, sell, possess or advertise a used catalytic converter. The law does not apply to licensed automotive recyclers and scrap metal dealers, but dealers must report transactions to DPS.
Popelier said he believes law enforcement now has more tools to crack down on the crime trend.
"If we go online and see somebody that is advertising to buy or sell a catalytic converter and they're not a scrapyard, then that, in itself, is a class one misdemeanor," said Popelier.
Tips to keep your catalytic converter safe
Farmers.com provides ways to keep your device safe:
Park in a well-lit area
Get your license plate number etched onto your catalytic converter
Consider buying an anti-theft device like a cat-clamp to deter thieves